Monday, December 17, 2007
About Me
Name: Maranatha
Location: Florence, Oregon, United States
I am a born again Christian and have been saved since 1980. I pray this blog will be a blessing to all who visit.
Purchasing Devotionals
If you would like to purchase any of the series of devotionals, they are available in:
(1) Electronic format (PDF) for $15.00
(2) A nice 3-ring binder for $35.00 (includes shipping).
Email me at 777.maranatha@gmail.com for details.
Is Your Name in the Book of Life?
Current Series
Devotional on the Word of God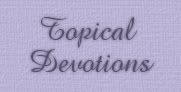 Get your own calendar

Hey cool!
There's online guest(s)
visiting my
Home Away From Home

Site Counters